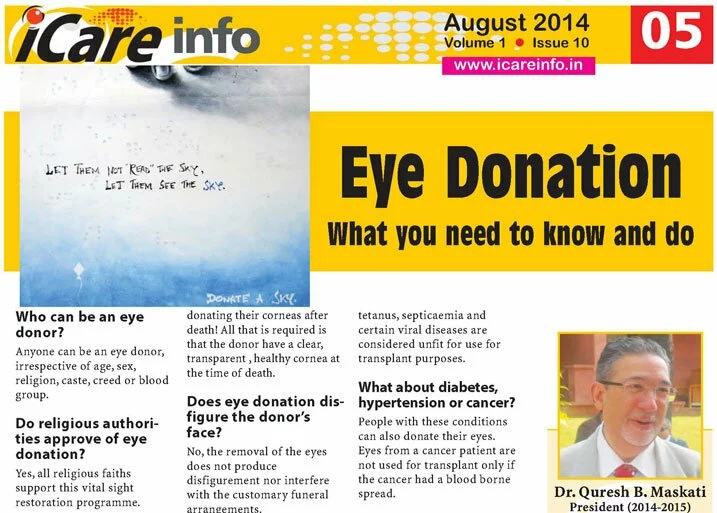 What is to be done when a relative expires?
Keep the death certificate or its copy to show to the eye bank team. They do not need to take it away. You do not need to look for a photocopier machine to make a photocopy in the middle of the night. The eye bank team only needs to look at the certificate to determine:

 The patient is really dead and
 The cause of death, to determine if the eyeball can be useful.

Contact your nearest eye bank – in India, most cities have 1919 as the eye bank contact number. Otherwise, check the local telephone directory – most eye banks are listed in the emergency numbers list. The eye bank team will arrive in the next 30-60 minutes, provided you have given them an accurate address with landmarks. The procedure will take only around 30-40 minutes.
Close the eye lids, while waiting for the eye bank team and put off any overhead fan, to prevent drying of the cornea. However, if there is an air-conditioner, switch it on, if possible.
Cover the closed lids with moist cotton wool (if readily available in the house, otherwise do not bother).
Raise the donor's head by 6 inches, by placing 2 pillows under it.
Is there any cumbersome paperwork or time consuming formalities?
None whatsoever. The eye bank team will come with a form, which they will fill themselves. They will only need the signatures of 2 close relatives, giving consent. It does not matter whether the donor had pledged his eyes for donation during his lifetime or not.
I believe some blood is also collected?
Yes, according to WHO guidelines, the team will also collect some blood from the donor, for testing for HIV, hepatitis etc. They will withdraw this from a large vessel or from the heart with a needle puncture.
Is there a real need for Eye Donation?
Yes, in India there are lacs of patients awaiting corneal transplant.. in some eye banks patients wait over a year for their turn. Every year barely 30,000 corneas are donated, so the waiting list keeps growing!
Finally, is there any money to be paid?
No, no monetary transaction is done. Most eye banks recover their running costs by charging a small processing fee to the recipients.
If it does not cost to donate eyeballs after death and the procedure is so easy, and encouraged by every religion, why are there such few donors?
Good question. You tell me! You go around spreading the message of the nobility of eye donation and how easy and hassle free it is and maybe by the time I write next year, this question will need deletion!