The story of origin of Eye Bank in Shimla
Umang Foundation's advocacy resulted in an eye bank in Shimla
story by Kusum Verma
Himachal Pradesh is considered as a forward State in many sectors including literacy, health, sex ratio, horticulture and tourism etc. But, as far as disability is concerned, there were very few takers in this small hill state. Till 2009, it was the considered opinion of the bureaucrats that they did not require an Eye Bank since there were no persons with corneal blindness in the State. Interestingly, the government agencies would run a campaign for eye donation every year during eye donation awareness programme and waste a huge amount of money in the State that did not have an eye bank or a cornea collection centre.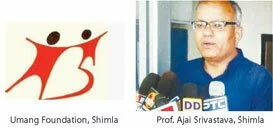 The long struggle and aggressive advocacy of Umang Foundation, a public welfare trust working for the cause of the disabled, yielded result when the government established an Eye Bank in Indira Gandhi Medical College, Shimla in the year 2010. More than a decade ago, a lawyer ( now a Judge in High Court) had filed a public interest litigation (PIL) in the H.P. High Court demanding an Eye Bank in the State. The petition was dismissed when the state government contested and said that there were no corneal blinds in H.P. But Umang Foundation continued it efforts and its chairman Prof. Ajai Srivastava convinced the Health Minister and Chief Minster in 2009 that if the Eye Bank was opened, it would benefit a large number of corneal blinds of the state.
According to Dr. Ram Lal Sharma, Associate Professor and Head of the Eye Bank, 60 persons have got sight through corneal transplants by now. He says, "The availability of healthy corneas is very less as compared to the demand. Most of the corneas we get are from very elderly persons and some of them are of no use due to various reasons. A strong mass movement is required in favour of eye donation to make people aware about the cause."
The Eye Bank has good infrastructure and staff. But the major thing it lacks is a dedicated social worker to roam around in the Medical College Hospital and motivate people who have lost their kith and kin. Prof. Ajai Srivastava says that if this gap is bridged, the availability of corneas will definitely increase.
Umang Foundation's campaign to motivate people to make pledge for eye donation is picking up momentum gradually. The then chief justice of Himachal Pradesh Justice Kurian Joseph ( now a supreme court judge) along with some other judges of H.P. High Court and Chief Secretary of the State pledged to donate eyes in Umang Foundation's camps in Shimla. The Foundation is working on a well designed strategy to make people aware about the cause. In its campaign, it has involved not only senior citizens but the young generation also. It has also started honouring those departed souls who donated their eyes for lighting up others lifes; painting contests and films screening on eye donation.
The government should establish eye collection centres in the different districts. It will also increase the availability of cornea for the Bank.

i Care Info - a monthly news paper to inform, advocate, educate issues related to eyes

Latest posts by i Care info (see all)
Related Articles