I have donated my eyes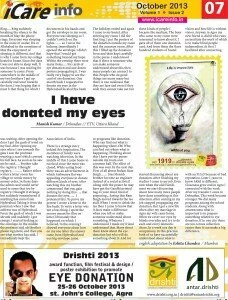 Ring…. Ring suddenly breaking the silence in the month of May the phone rings. Everyone was sleeping in the noise of cooler. Yes in Allahabad in the noontime of May the enjoyment of sleeping is different. And that is why I came from my college hostel to home. Since few days I was not able to sleep well. It was because I was waiting for someone to come. From somewhere in the middle of my two brothers I got up carefully and went towards the door. I was hoping that it must b that thing for which I was waiting. After opening the door I got the gush of wind on my face. After opening my eyes when I saw towards the gate I saw the postman wearing a scarf which covered his full face. As soon as he saw me he said….. Brother take the registry. I thought registry………. Rather either writes a letter room his village or sends money by money order. In those days the admit card would never used to come that too by registry. I thought it strange but suddenly remembered if anything has come from Hyderabad. Taking it from the postman when I saw that address was of Hyderabad. From the gush of winds I was shrunk and suddenly I got energy. I started looking at the envelope. In the middle the postman said oh! Brother please sign here, and then you see what mother has said. I immediately kept the document in his hands and got the envelope in my room. Everyone was sleeping so I couldn't switch on the lights…… so I sat in the balcony. Immediately I opened the envelope. I didn't hope that I would get something beyond my hope. Within the envelop there were many items…. Six cards of eye donation and one dozen posters propagating it. I was really very happy to see the card of eye donation. One month back I requested to donate my eyes in the Hyderabad located Eye bank Association of India.
There is a strange story behind this inspiration. The members of family were watching television. In the middle of this I came home to eat food since the mess was closed. While eating food there was an advertisement in which Aishwarya Rai was appealing everyone to donate different kinds of eyes. After watching this my brother commented that you gain nothing by doing this….. that donates the eyes….. I protested this. To prove my protest I wrote a letter to the Eye bank. To write a letter was not a less thing. I spent the money meant for film on letter. Ultimately that happened on which I believed. In the evening I showed everyone about how on my one letter the answer came from Hyderabad and one big envelope came.
The holidays ended and again I came to my hostel. After entering my room I did the first ting. I put the posters of the donation outside my room and the common room. After this I filled up the donation form and then kept carefully in the purse. I understood that if there is someone who can make someone understand about this then many people can connect to this. People who do good things are many many but there is one weakness that they are lazy and even if they wish they cannot take out tim or programs like donation. Who can find out what is happening where. Oh! Who can find out where what is happening. Thinking about this I have put the poster outside my room and common hall. The effect of this was seen by the next day. First of all about Padam Ram Singh…… Has Manish brother become an engineer instead of a social activist? Along with the poster he may have got the Gandhi printed bag. Is your mind tired of preparing… Saying this Ram Singh moved towards the tea stall. When I went to drink the tea then I came to know that it does make a difference when you tell or make someone understand about something. Whatever I understood I made my friend understand that. Many about them knew about the eye donation but who will do something about it. And for these kinds of people I became the medium. The boys who came to my room were interested to know about it. I gave all of them one donation card. And from these the three hundred students of hostel started discussing about eye donation. After finishing my studies I came to my job. Even now when the old friends meet we start discussing about how many more people have done something in this direction. After coming in my job stopped propagating eye donation. But I got a new life when after my marriage in Agra my wife came home. Often we cover our eyes by blinds everyday and try to do each and every domestic chore. In a week one day is compulsory. In this practice both of us have successfully understood about what is vision and how life is without vision. Anyway in Agra my new friend is Akhil who runs an institute the work of which is to make blind people independent. At first I hesitated after connecting with an N.G.O because of bad reputation. Later I came to know Akhil is different. Closeness grew and in Agra I connected with the work. After my transfer I came to Dehradun. This work became stronger. We did many programs among the school students. Along with awareneness what is important is to prepare something related to eye donation. If in one city there are ten cornea collection center then it can make a big difference.
Manish Kumar / Dehradun // ETV, Uttara Khand