Rights provide an opportunity to take step towards progress
Conversation with Prasanna Kumar Pincha as the Chief Commissioner for Persons with Disabilities, India by Divya Sahu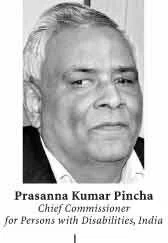 Change in the situation of disable persons (especially blinds) after the 66 years of Independence.
Lots of changes is being observed during last 66 years. In comparison to time before 66 years ago, presently there are numerous opportunities of safety, right, training etc for blind people
At national level, four laws are existing for the help of disable persons. The law of year 1995 talk about the rights of disable persons, a national committee was formed. This law is for such disable or handicapped persons who are dependent on others. There is separate law for mentally retarded, however there is possibility of formation of new law. Mental Health Care bill is being presented in parliament, and it will be more progressive. Apart from this Indian Rehabilitation Council law is also there.
There four laws are proving fruitful for the handicapped persons. Many schemes are also launched, a separate department is there in the government.
India has also signed and promoted the act prepared by Soviet Union regarding the rights of handicapped people. According to this act, there should be change in all laws and policies related to this. Most probably this bill can be presented in parliament during winter session.
However , many more things have to be done for betterment of these people, but it will be wrong saying that nothing has been done so far.
These laws had been proved beneficial to which extent. Did the representation of handicapped is being seen in society.
No doubt, these laws had proved fruitful. These people had got social safety and smooth environment. According to this law, it is necessary to provide education to disable child till age of 18 in smooth and safe environment which will be free of cost and children are getting benefitted also
Poverty Eradication - Under this scheme there is provision of 3% reservation and it had proved successful also. However, it can be said that these laws are not being implemented properly, most of the places appointment is not done in reserved seats. Backlog is still in existence. But it is true people has become aware and movement is observed. It is necessary to develop sensitivity in burocacy.
How these rights bring change in life?
These laws have brought lots of changes in disable people life. Now there are imparting their duties in society equally and it is possible only because of these rights , as it provide an opportunity to take step towards progress.
If any one feels that he is deprived of rights, he or she can appeal in front of Chief Handicapped Commissioner of Central Government. State related cases be present before the state government. Apart from this, they can appeal in lok adalats and people are going also.

Act 2012 regarding Handicaps is under process and is different from Act of 1995. Now it has to be seen how much effective it would be?
First of all, it is required to know why this act is being formed. As the India has signed the bill with Soviet Union and promoted also , it means law has to be amended.
This changes would come in laws of main stream also, on points mentioned in the bill. For example in education field, the laws regarding right to education for handicap will be amended, so that education disability should be friendly. It is expected to done soon.
If we talk in whole, there would change in social, economical and cultural rights of disable persons , and civil and political rights would be additional.
Secondly, in present existing law, only seven awards for disabled are recognized, whereas in new law this figure would increase to 17-18 awards and large number of disabled would be benefited.
Any incident showing the benefit of these rights.
There are several incidents regarding it, as many exams are being held throughout the country for job and education, in which there was no similarity in rights of disables as compare to normal candidates. If any blind candidate required writer during the exam it was not available. Most of the exams they were able to get writes and at some places no.
As there are different rules in different places, when the complaints was being received , I thought of taking step in this direction. As the Chief Commissioner do not frame policies but before my working period a detail guidelines was prepared and forwarded to government and it was not being implemented.
I received the complaint in my office and I issued a show cause notice to Department of Disability Affairs. Hearing was held and ordered to implement the above guidelines in desired period, so that blind candidates should not face during exams. Later on those guidelines was implemented by Monitory of social Justice and Empowerment and it was good. Now the employer are bound to follow it. But still many more changes are required.

I am working with Asian News International (ANI) as a correspondent. Apart from ANI work I am also involved in various issue based social development activities with non-profit organisations.

Latest posts by Divya Sahu (see all)
Related Articles
Rights of persons with disabilities – Part 3 (Financial Assistance) (4)
Our Rights (4)