Drishti 2017 Eye Donation Creative Contest to Promote Eye Donation
Friends,
Greetings from Antardrishti!
6 Million people are waiting for eye donation…
Lets share support & promote Eye Donation
हमारे देश में लगभग 60 लाख व्यक्ति कार्निया की खराबी के कारण दृष्टिहीनों का जीवन जीने के लिए मजबूर है।
After the grand success of Drishti 2016, in a press conference Antardrishti announced the schedule of Drishti 2017 creative contest for the promotion of eye donation. Like previous year entries are invited in four categories i.e. Short Film, Poster, Design and Audio Jingle on the theme of eye donation Last date of the submitting the entries in all four categories is 15th October, 2017. Any citizen of India irrespective of age can participate in the contest. There is no entry fee for the contest. A three member independent jury of noted professional and imminent citizens will screen all entries and decide Golden Eye and Silver Eye in all four categories.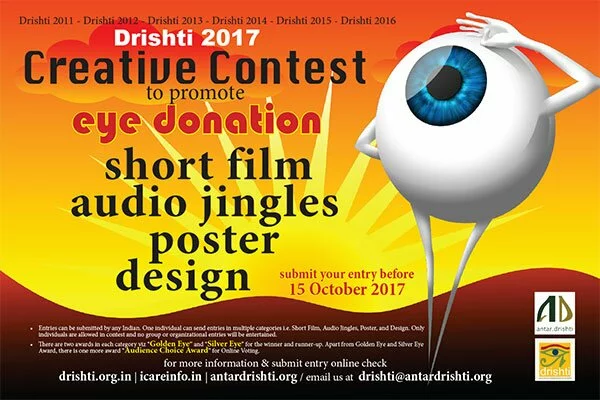 Drishti 2017 Eye Donation Creative Contest
Forms and details of the contest is available on our Drishti 2017 Website
If you have any queries, suggestions, feedback on contest / eye donation, please mail us at [email protected] and we will try to clarify them at our best!
Click (Drishti 2017 Eye Donation Creative Contest Poster) to download and share it
Join hand with us for the movement of Eye Donation and Spread this information.
Thank you for your time